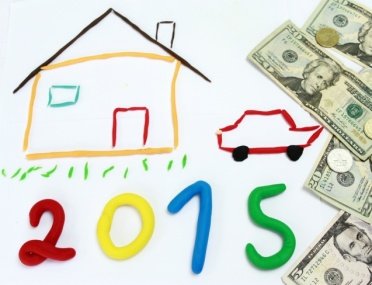 Five Habits to Break for Home Purchase Credit Worthiness
03 Feb 2015
Follow these steps to achieve better credit
Whether it's a resolution for 2015 or even 2016, it's time to start preparing for a new and improved credit score. Purchasing a home is a big step, and it can be made easy with some simple solutions. Here are five habits to break in order to get your credit score back in shape.
Swiping Plastic
Is your credit card maxed out? Break the bad habit of maxing out your credit cards and resolve to creating a realistic, conservative budget that you can stick to. Put away some money each month that will only serve to pay off those credit card bills. Not only will your credit score improve, you'll also save on interest rates. As a general rule of thumb, try to keep your balances at or below approximately 50% of your credit lines to increase your credit score. Utilizing less than 50% of your credit indicates a worthy borrower.
Ignorance Doesn't Mean Bliss
Although you may not know your credit score, lenders and banks will when you approach them for financing. Your credit score showcases your spending habits so put your best foot forward and create a pathway of credit success. Create the habit of checking your credit score regularly in order to monitor your finances and spending. In addition, it is good to check your credit report for inconsistencies. By law, the credit bureaus must provide you with one free credit report per year. Visit the FTC's website to gain access to your free report. We suggest pulling a report from one of the three credit bureaus every four months. This way you can review your credit report each quarter for any potential issues.
Meet More Than the Minimum
Paying only the minimum balances makes it difficult, even impossible in some cases, to pay off large credit card debts. Smash the habit of paying just the minimum and commit to paying above the minimum amount. You will see results faster and soon reap dividends on interest savings and a higher credit score.
Being Late
No one is perfect. As humans, we all have the tendency to forget something, arrive tardy to a meeting, or sometimes we simply become distracted by life's twists and turns. If you are interested in improving your credit score, the easiest step you can take is to start paying your bills on time. Timely payments with balances below the 50% utilization threshold factor positively impact your worthiness as a borrower.
Don't Rack 'Em Up
Do you apply for a new credit card every time a reward program is released? Lenders are wary of house hunters who have amassed an excessive amount of credit cards and overspend. Break the habit of over credit-utilization and accept novel credit scarcely. Similarly, the length of your credit accounts are also factored into your credit score. Accounts that have been open longer with timely payments are factored in your favor. Conversely, recently established credit accounts or accounts with late payments are factored against you.
Curb bad credit habits and make a resolution to be fiscally responsible. Do so, and you will soon be ready to own a home in thriving South Florida. Steady job growth, stable economic times, and population expansion all make South Florida a fabulous place to call home. Marina Title is Florida's premier Title Insurance and real estate closing service provider. Contact us today at (305)-901-5628 or info@marinatitle.com to learn how we can help you own your new home.
Testimonials
"Very trustworthy title company. The attorneys and staff are all very kind, professional and responsive; they took their time and explained all the details on our closing. I had a bad experience with a different tittle company in the past where the paperwork was full of mistakes. I will only use Marina Title going forward. Highly recommend." – Guiselle




"A BUNCH OF KNOW IT ALL'S" and that is exactly what I need on my side! Dealing in this crazy world of Real Estate, I can always count on these top notch smarties to educate me and my clients while solving the issues as they inevitably pop up. The teams at Marina Title and the Law Offices of JURADO & FARSHCHIAN, P.L in North Miami provide a exceptional list of services. Each time I use them, I am always pleased with their results and at the end, I feel a little smarter myself! Thanks for the knowledge!" – Melton




"From the first time I talked to Jennie, I felt I am going to be in good hands with her representing me in a purchase of a luxury Condo in Miami. She was professional, honest, attentive, punctual and much more. She answered all my questions, revised the purchase and sale contract when needed and followed up on my transaction until it was closed. Her Escrow assistant Suzette is one of the greatest people I have worked with. She addressed my questions on the HUD statement, communicated promptly to HOA and my Insurance agent and was on top of it all. I truly appreciated someone like Suzette working on my real estate purchase. I am very greatful and would recommend her and Jennie anytime in the future." – Sam




"Ever since my very first real estate deal 6 years ago, I have been utilizing Marina Title to assist me with closing other deals. Jennie and her staff is some of the greatest people you will ever meet and work with in this business. They definitely go the extra mile to make sure their clients are well taken care of. I am consistently referring people to them, because of their professionalism." – Courtney




"Jennie is an excellent real estate lawyer. When we sold our condo in Miami Beach she took care of all the legal documents. She was extremely professional and knowledgeable, and always very pleasant to work with. I would definitely recommend Jennie as a real estate lawyer." – Richard



Insights