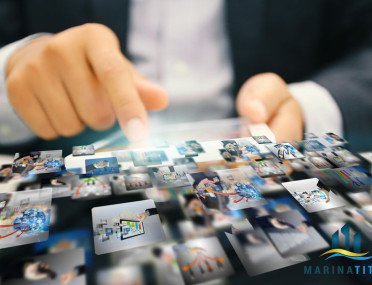 Social Media Marketing Ideas for Realtors
04 Sep 2015
Social media marketing is a vital part of every Realtor's Internet marketing strategy. Without it, you will have a difficult time maintaining an edge in today's extremely competitive real estate market. Everyone uses Facebook, but few people use it properly, and even fewer use the other kinds of social media tools that are necessary to give your real estate business a bump up. Here are some important tips for social media marketing for Realtors.
Blog!
While your website is the hub of your business, your blog is what drives people to your website. It acts as the primary focus between your home page and your social media accounts. Make sure you are engaging in proper SEO (Search Engine Optimization) strategies such as using the right keywords at the right times, and be sure that whenever you post a new blog, all of your social media link back to it.
Videos
There is an old saying that "print is dead." In some ways on the Internet, this is true. While people still read and engage on social media, videos are what attract and draw the eye. Make sure your videos are fun, laid back and still professional. Keep them short — the average viewer's attention span for online engagement is less than five minutes.
Invites and Reposting
Every social media account has a function that allows you to invite others via your email contacts. Use this service. The more followers you have on social media, the more likely you are to draw the attention of others and in time, build your leads and customer base.
When you have a strong group of followers on social media, encourage them to repost things that you put up. This will help to spread the word and get your name out there to even more people. It will also help your search engine rankings, especially if your posts lead back to your blog and website.
Graphics
Use professional, high quality graphics on your accounts. The better your graphic design, the more attractive your social media will be to others. Be careful, though, as there are pitfalls inherent in this.
Never, ever simply lift graphics from another website or somewhere else online, as these may be copyrighted. Be sure that the graphics you use are either your own, are in the public domain or carry a free license such as Creative Commons. If you are not sure, it is often best to engage the services of a professional or a pay service which provides licensed graphics and imagery.
Contact Information
Everything you put online should include your contact information in a standardized style. Not only does this make you easy to reach, but search engines will see that your contact info is spread around in various places and this can be a huge boon to your local social media marketing for Realtors.
Marina Title provides a complete range of title and settlement services to the Florida community. If you would like more information about what we do, email us at info@marinatitle.com or give us a call at 1 (800) 610-4750.
Testimonials
Jennie is an excellent real estate lawyer. When we sold our condo in Miami Beach she took care of all the legal documents. She was extremely professional and knowledgeable, and always very pleasant to work with. I would definitely recommend Jennie as a real estate lawyer.




Jennie represented me in a very contentious property sale. She was professional, detail oriented, and knowledgeable about the intricacies of what can come back as a problem. Jennie handled the entire sale, spoke with me about each detail as they came up. I would have no reason to look for another law firm. She is also friends with some of the brightest and dedicated attorneys anywhere. She made a very unpleasant event possible. I would recommend her to my dearest friends, and anyone else for that matter.




I'm an real estate investor from CA and trying to buy properties in Florida, i was looking for real estate attorney's who could help me reviewing my closing documents and i found Jennie's help was not only in a timely fashion but her extensive knowledge in real estate amazed me. She was thorough and complete, right away she was able to spot any potential risks in the contracts and that just made my day to have this peace of mind assurance from her. so i would recommend her service to others in similar needs like myself as well. Thanks again Jennie.




Jennie handled a business property purchase for me very recently, She was very professional kept me informed every step of the way through to closure. Jennie is also very knowledgeable as there were times I didn't quite understand certain legal terms & she explained them very clearly to me. I will also say that she is very trustworthy too & look forward to working with her on my next business purchase very soon. Excellent & highly recommendable.




Jennie is an excellent attorney. She is smart, well educated, diligent, friendly, reliable, and always a pleasure to work with. Jennie is always the first person I go to when I need legal advice. If you need a good lawyer I highly recommend her.



Insights