Buyers & Sellers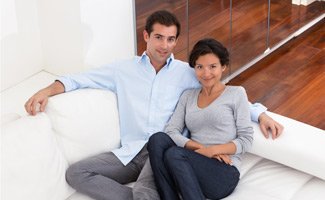 Buying a new property is usually an exciting time, especially if you are purchasing a new home. It is vital, however, to make sure the property you bought has a "clean record." Without inspection, you may find yourself suddenly encumbered with the previous owner's liens or even in a partnership with a third party who owns part of the property. These issues can be avoided by conducting a title search.
If the title search is clean and you have finalized the purchase, buying Owner's Policy of Title Insurance, or simply title insurance, can protect you if a problem appears later on. Whether you are considering a property in Florida, have already purchased or are even the seller, working with Marina Title can make sure you are protected throughout the entire process.
The Title Search
Before you ever make an offer on a property, it is crucial to have a title search conducted. This will reveal nearly any issue you could possibly face later on down the road. One of the most important facets is the chain of title. This will reveal if the property has ever been owned by someone illegally, like a minor. In addition, it may reveal any imposter who sold the home, plus any encumbrances or other ownership issues.
In addition, a title search will show if the property has any liens placed by creditors. These liens may be passed on to the property purchaser. In order to recover some of the debt, a creditor may also take possession of some of the property; this will be revealed in a title search. Even if there are issues with the title, you may proceed with the purchase if you desire.
A quick online search will show that title searches can be done on your own. But choosing this option means going through a long process of searching public records and other legal documents, often missing important details. Marina Title will gather every relevant document and thoroughly analyze it for you, insuring the search so you can rest assured that our results are accurate.
Title Insurance
Once the property is purchased, an Owner's Policy of Title Insurance policy is imperative. Unlike most other forms of insurance, this is a one-time expense that protects you (and your heirs, as long as they own the property) from financial loss in the event of title loss. There are a few different reasons this may happen, including:
A lost will from the previous owner naming an heir
Forgery in previous title paperwork
Lost paperwork due to clerical error
A missing heir turning up to claim the property
An illegal sale to a minor, someone of unsound mind, a criminal or anyone else not lawfully allowed to purchase property
An imposter selling the property either to you or a previous owner
Unknown or unrecorded liens
Unreported encumbrances that grant partial or total ownership to a third party
Undiscovered easements that grant the government or a business use of your land
Boundary disputes that may result in partial loss of your property
It is important to note that title insurance works best with a title search. If any of the above issues would have turned up in a search, and you did not conduct one, your insurance policy may not protect you from financial loss.
Benefits to Sellers
Sellers can also benefit from having a title company on their side. If you have title insurance, this acts as assurance that the property is marketable and can be sold. You are therefore protected from financial loss if the buyer suddenly decides to reject the title. It will also protect the seller if any sort of "warranties" written into the closing documents are breached and the buyer tries to sue.
Finally, both buyers and sellers can benefit from Marina Title's escrow services. This will ensure that both parties are protected throughout the process. If either rejects the deal at the last moment, neither will face financial loss due to it. The buyer can make sure they have the title before handing over any money, and the seller can ensure they receive the funds after the sale is complete.
Marina Title offers a wide range of services for both buyers and sellers. For more information, Contact us today at (305) 901-5628 or email us at Info@MarinaTitle.com
Become a Client Place An Order
Testimonials
"Very trustworthy title company. The attorneys and staff are all very kind, professional and responsive; they took their time and explained all the details on our closing. I had a bad experience with a different tittle company in the past where the paperwork was full of mistakes. I will only use Marina Title going forward. Highly recommend." – Guiselle




"A BUNCH OF KNOW IT ALL'S" and that is exactly what I need on my side! Dealing in this crazy world of Real Estate, I can always count on these top notch smarties to educate me and my clients while solving the issues as they inevitably pop up. The teams at Marina Title and the Law Offices of JURADO & FARSHCHIAN, P.L in North Miami provide a exceptional list of services. Each time I use them, I am always pleased with their results and at the end, I feel a little smarter myself! Thanks for the knowledge!" – Melton




"From the first time I talked to Jennie, I felt I am going to be in good hands with her representing me in a purchase of a luxury Condo in Miami. She was professional, honest, attentive, punctual and much more. She answered all my questions, revised the purchase and sale contract when needed and followed up on my transaction until it was closed. Her Escrow assistant Suzette is one of the greatest people I have worked with. She addressed my questions on the HUD statement, communicated promptly to HOA and my Insurance agent and was on top of it all. I truly appreciated someone like Suzette working on my real estate purchase. I am very greatful and would recommend her and Jennie anytime in the future." – Sam




"Ever since my very first real estate deal 6 years ago, I have been utilizing Marina Title to assist me with closing other deals. Jennie and her staff is some of the greatest people you will ever meet and work with in this business. They definitely go the extra mile to make sure their clients are well taken care of. I am consistently referring people to them, because of their professionalism." – Courtney




"Jennie is an excellent real estate lawyer. When we sold our condo in Miami Beach she took care of all the legal documents. She was extremely professional and knowledgeable, and always very pleasant to work with. I would definitely recommend Jennie as a real estate lawyer." – Richard