Pre-Construction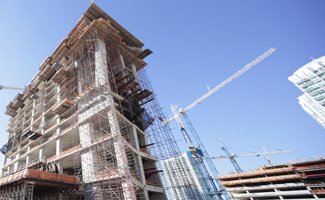 From building a single family residence to an expansive subdivision, our team of Marina Title real estate professionals is endowed with the knowledge and experience necessary to effectively guide our clients through every step of the entire construction process. Our specialists are uniquely skilled in every arena of the industry, from pre-construction to post-construction. We can help our developer clients find the ideal plot of land for their next projects, assume the management of pending construction loan disbursements as needed and much more. The depth of expertise we bring to bear to any project is simply beyond compare.
Products and Resources for Homebuilders and Developers
The professionals at Marina Title are steeped in recognition of excellence earned over years of the highest quality service. We have devoted years to providing the best possible multi-site commercial and residential closing services to developers whose construction projects require a nuanced approach. Finding a team capable of a greater degree of tact and finesse, who respects each client's unique needs and concerns, would simply prove impossible. At Marina Title, we understand that issues can occur even in those projects that were considered routine. Therefore, we offer mechanic or materialman's lien coverage on the basis of need and request. Our clients simply deserve the best quality of service, which is why we strive to always preserve the Marina Title promise: we ensure the smooth and timely completion of all of our clients' construction and development projects.
To us, it is absolutely vital that each and every one of our clients can enjoy the same benefits whose creation and continuous perfecting made and makes us who we are today. As our client, you will have complete access to the most innovate, cutting-edge and effective suite of tools and technologies. Best of all, you will have at your disposal the most adaptable and proficient team to handle the various hidden aspects of the construction process and resolve problems as they arise, or before that point. In addition to the services we perform on your behalf, we also offer for your ease and convenience time- and money-saving tools such as the Closing Costs Calculator, tax worksheets and more. At Marina Title, we boast a proven, demonstrable track record of providing our clients with the most efficient technologies and highly useful resources. We understand the inherent difficulties in managing fluctuating work volume, changing conditions or even deadlines and many other issues that can hamper the successful, timely conclusion of a construction project. The fact that we efficiently and accurately identify the problems and, thus, provide the most effective response to said problems, means that our developer and construction clients can rest assured in the knowledge that we serve them with both the highest degree of skill and integrity.
Marina Title Fights for Our Clients
Regardless of where our clients' projects may be located, or down what paths the completion of the process may lead us, we consistently utilize industry best practices, coupled with our suite of powerful technology tools, to deliver to our clients the most satisfactory construction, development and closing experiences possible. Our mission: to serve you, our client, in the manner deemed most expedient and efficient by our determination, refined over years of working in the real estate industry, as well as your particular needs and requirements.
Should there ever arise any trouble, whether it stem from government red tape or title disputes, you will retain complete and unbroken peace of mind, because Marina Title can protect you from the earliest stages of the pre-construction of your project all the way up to the final steps needing to be taken. We are experts in dealing with the government agencies whose responsibility it is to oversee projects like yours. Furthermore, our law firm, Jurado & Farshchian, can help you resolve any legal issues that could occur due to title disputes and more.
Become a Client Title Insurance CalculatorPlace An Order

For more information on Marina Title's pre-construction title and closing services, Contact us today at (305) 901-5628 or email us at Info@MarinaTitle.com
Testimonials
"Very trustworthy title company. The attorneys and staff are all very kind, professional and responsive; they took their time and explained all the details on our closing. I had a bad experience with a different tittle company in the past where the paperwork was full of mistakes. I will only use Marina Title going forward. Highly recommend." – Guiselle




"A BUNCH OF KNOW IT ALL'S" and that is exactly what I need on my side! Dealing in this crazy world of Real Estate, I can always count on these top notch smarties to educate me and my clients while solving the issues as they inevitably pop up. The teams at Marina Title and the Law Offices of JURADO & FARSHCHIAN, P.L in North Miami provide a exceptional list of services. Each time I use them, I am always pleased with their results and at the end, I feel a little smarter myself! Thanks for the knowledge!" – Melton




"From the first time I talked to Jennie, I felt I am going to be in good hands with her representing me in a purchase of a luxury Condo in Miami. She was professional, honest, attentive, punctual and much more. She answered all my questions, revised the purchase and sale contract when needed and followed up on my transaction until it was closed. Her Escrow assistant Suzette is one of the greatest people I have worked with. She addressed my questions on the HUD statement, communicated promptly to HOA and my Insurance agent and was on top of it all. I truly appreciated someone like Suzette working on my real estate purchase. I am very greatful and would recommend her and Jennie anytime in the future." – Sam




"Ever since my very first real estate deal 6 years ago, I have been utilizing Marina Title to assist me with closing other deals. Jennie and her staff is some of the greatest people you will ever meet and work with in this business. They definitely go the extra mile to make sure their clients are well taken care of. I am consistently referring people to them, because of their professionalism." – Courtney




"Jennie is an excellent real estate lawyer. When we sold our condo in Miami Beach she took care of all the legal documents. She was extremely professional and knowledgeable, and always very pleasant to work with. I would definitely recommend Jennie as a real estate lawyer." – Richard



Insights