Commercial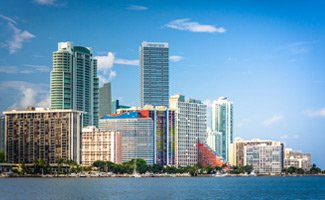 Our team here at Marina Title fully comprehends the stakes of a commercial real estate transaction. Let us remove some of the burden from your shoulders by allowing yourself to rely on our sophisticated set of skills refined through many, many years of experience into the purest state of efficiency. The members of our professional team are endowed with a high degree of experience and an intense focus. We are supremely proficient at successfully closing high liability commercial, industrial and development projects. Because they are so thoroughly covered and protected, our clients know that, no matter what the case, they can rest assured of the devotion and efficiency of the representatives of Marina Title.
No segment of the great State of Florida falls outside of the purview and expertise of a Marina Title agent. We pride ourselves on the depth of knowledge and powerful tools we bring to bear in order to conclude to the fullest satisfaction possible all of our clients' commercial or development title and/or settlement needs. Whether a commercial real estate lender, an investor, an attorney, an asset manager, a builder or a developer, each and every one of our clients knows they can rely on the wealth of experience of which our team at Marina Title is possessed. We promise to exceed expectations in our completion of even the most complex commercial transactions.
Adaptability, Responsiveness
We at Marina Title are intimately aware of the need for handling commercial real estate transactions with finesse. Our title and closing experts always engage in proactive communication with any and all stakeholders and respond with unparalleled precision and promptness. In terms of adaptability, we are inimitable and we handle the coordination of each step in the process with a highly enviable exactitude. The degree of our responsiveness simply cannot be matched. Even as the requirements of the project evolve, shift and change, the experts at Marina Title resolve each new challenge even as it arises with poise and self-assurance.
Though an established firm with many years of skilled service behind it, Marina Title maintains the flexibility, energy and hunger of a newcomer to the scene. This unique blend of focus and drive allows us to serve our clients with a vigor and determination that must result in the utmost satisfaction.
Title and Escrow Agent
Past clients will be more than familiar with to our extraordinarily adept handling of the closing process. We adapt, as the day requires, to the subtle shift in the needs of the professionals we represent in the industrial and commercial real estate industries. Two of the many services we provide our commercial and industrial clients are managing escrow accounts and the best representation yet seen in a title agent.
Regardless of the individual role or roles of our clients, whether this be providing counsel, making arrangements for financing, buying, selling, providing funds or anything else, the professionals at Marina Title always present our clients with the best in customized solutions that perfectly suit their particular needs. Our in-depth knowledge and tremendous experience in the Florida real estate industry enables us to ensure that every transaction is brought to an efficient, timely and utterly satisfactory close.
A Proud Reputation of Service
Due to the wide array of services we offer to our commercial and industrial clients, the name Marina Title is synonymous with the highest possible quality of customer care. Our clients know that, when they enlist the professional aid of one of the experts of the Marina Title team, they are receiving the most thoughtful, intelligent, comprehensive, efficient, cutting-edge and best service available today. There simply is no comparison to the degree of service and strength of our resources and knowledge, and we are proud to continuously strive to maintain this lofty standard of business practice. To get started with our many services, drop us a line at 1 (800) 610-4750 or email us at info@marinatitle.com.
Become a Client Closing Cost CalculatorPlace An Order
Testimonials
Jennie is an excellent real estate lawyer. When we sold our condo in Miami Beach she took care of all the legal documents. She was extremely professional and knowledgeable, and always very pleasant to work with. I would definitely recommend Jennie as a real estate lawyer.




Jennie represented me in a very contentious property sale. She was professional, detail oriented, and knowledgeable about the intricacies of what can come back as a problem. Jennie handled the entire sale, spoke with me about each detail as they came up. I would have no reason to look for another law firm. She is also friends with some of the brightest and dedicated attorneys anywhere. She made a very unpleasant event possible. I would recommend her to my dearest friends, and anyone else for that matter.




I'm an real estate investor from CA and trying to buy properties in Florida, i was looking for real estate attorney's who could help me reviewing my closing documents and i found Jennie's help was not only in a timely fashion but her extensive knowledge in real estate amazed me. She was thorough and complete, right away she was able to spot any potential risks in the contracts and that just made my day to have this peace of mind assurance from her. so i would recommend her service to others in similar needs like myself as well. Thanks again Jennie.




Jennie handled a business property purchase for me very recently, She was very professional kept me informed every step of the way through to closure. Jennie is also very knowledgeable as there were times I didn't quite understand certain legal terms & she explained them very clearly to me. I will also say that she is very trustworthy too & look forward to working with her on my next business purchase very soon. Excellent & highly recommendable.




Jennie is an excellent attorney. She is smart, well educated, diligent, friendly, reliable, and always a pleasure to work with. Jennie is always the first person I go to when I need legal advice. If you need a good lawyer I highly recommend her.



Insights