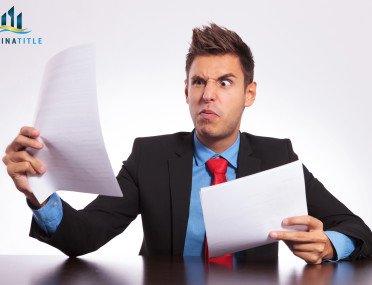 How Unrecorded Documents Can Affect Your Title 
17 Aug 2015
A title search may, every once in a while, result in the discovery of a reference to or citation of an unrecorded document, such as an agreement, restriction, easement and other articles of similar effect. Many property owners are unaware that such unrecorded documents can still greatly affect them. To avoid the shock of loss of title or rights of ownership, you should familiarize yourself with the different types of documents that can affect your title.
Notice
Because Florida is a race-notice state, encumbrance and/or lien priority is granted to the entity or individual that files the record first. The exception being that the recorder was given proper notice of a special case that claims preeminence or priority. If a document that conflicts with your title precedes said title, your rights could be in jeopardy. There are two types of notice that can be given:
When an individual personally knows a matter affecting the rights or state of the property. A neighbor, for example, might know of easements placed on parcels of the property. This is called Actual Notice.
Constructive Notice, on the other hand, occurs when an instrument is received and recorded with the county's public records. In the event that the overseeing agent, underwriter and owner are put on notice, the offending issue must be resolved before any other actions can be taken.
The task of identifying matters of constructive notice falls to the examiner of the title in question. Any issues will be recorded in the title commitment (under Schedules B-1 or B-2). In addition, this examiner must be informed of unrecorded matters such as the seller owning a second mortgage, an unapproved construction of any kind, or easements or agreements made concerning water or mineral rights. Should agent, owner or underwriter remain ignorant of such unrecorded documents, the insured buyer or lender will take title or priority of lien, thus severely hampering the smooth conclusion of the closing process and even your claim to the title itself.
Exceptions
Exceptions that may possibly apply include the Marketable Record Title Act (MRTA) and Statutes of Limitations. The MRTA dictates that certain unrecorded documents will be extinguished if they are not re-imposed within 30 years of the root of title, which is the term used to refer to the first deed in the chain of title that is now older than 30 years. However, any easement, for example, that is still in effect will remain so. The experts at Marina Title can assist through the entire process.
Florida Statute 95.11(1)(b), furthermore, states that "a legal or equitable action on a contract, obligation or liability founded on a written instrument" will expire within five years. This includes, to name a couple, foreclosures and any action taken that breaches a property insurance contract. Some unrecorded documents may be rendered invalid by the passage of time, thanks to this Statute of Limitations. However, it is always best to ascertain that the examiner has clearly presented any unrecorded documents discovered, and underwriters must be informed by the seller, agent or borrower of any pertinent matters concerning the insurance, mortgage or placement of lien on the property in question.
The professionals at Marina Title offer their knowledge and expertise concerning deeds, titles and other matters pertaining to the intricacies of Florida real estate. Contact us by email at info@marinatitle.com, or by phone at (305) 901-5628.
Testimonials
"Very trustworthy title company. The attorneys and staff are all very kind, professional and responsive; they took their time and explained all the details on our closing. I had a bad experience with a different tittle company in the past where the paperwork was full of mistakes. I will only use Marina Title going forward. Highly recommend." – Guiselle




"A BUNCH OF KNOW IT ALL'S" and that is exactly what I need on my side! Dealing in this crazy world of Real Estate, I can always count on these top notch smarties to educate me and my clients while solving the issues as they inevitably pop up. The teams at Marina Title and the Law Offices of JURADO & FARSHCHIAN, P.L in North Miami provide a exceptional list of services. Each time I use them, I am always pleased with their results and at the end, I feel a little smarter myself! Thanks for the knowledge!" – Melton




"From the first time I talked to Jennie, I felt I am going to be in good hands with her representing me in a purchase of a luxury Condo in Miami. She was professional, honest, attentive, punctual and much more. She answered all my questions, revised the purchase and sale contract when needed and followed up on my transaction until it was closed. Her Escrow assistant Suzette is one of the greatest people I have worked with. She addressed my questions on the HUD statement, communicated promptly to HOA and my Insurance agent and was on top of it all. I truly appreciated someone like Suzette working on my real estate purchase. I am very greatful and would recommend her and Jennie anytime in the future." – Sam




"Ever since my very first real estate deal 6 years ago, I have been utilizing Marina Title to assist me with closing other deals. Jennie and her staff is some of the greatest people you will ever meet and work with in this business. They definitely go the extra mile to make sure their clients are well taken care of. I am consistently referring people to them, because of their professionalism." – Courtney




"Jennie is an excellent real estate lawyer. When we sold our condo in Miami Beach she took care of all the legal documents. She was extremely professional and knowledgeable, and always very pleasant to work with. I would definitely recommend Jennie as a real estate lawyer." – Richard