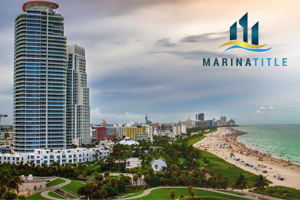 Learn About the Marina Title Advantage
13 Feb 2017
Advantages of Getting Marina Title Company Services
There are few assets as valuable as real estate, so you should do everything possible to protect your investment from the start of the transaction, to well beyond closing. Title issues are a leading cause of delays, cancellations, and legal troubles associated with real estate transactions. Without proper examination of title, your real estate dream can quickly become a nightmare. Few Realtors are equipped with the legal expertise or experience to handle such matters, so it is best to enlist the help of a qualified title company that will protect you from costly potential title problems.
When you hire Marina Title, you can rest assured that all your real estate needs will be met, if not exceeded. We are owned and operated by experienced Florida real estate attorneys who understand the state's unique and dynamic real estate market. Whether you're a business owner, investor, first-time homebuyer, or developer, we'll provide tailored solutions that go beyond the standards of the industry.
The following represent only some of the big advantages that come from partnering with our firm:
We Offer a Variety of Personalized Services
At Marina Title, we understand that Florida's real estate community is among the most diverse in the world. That's why the solutions and services we offer are similarly multifaceted, taking into account the specific challenges, needs, and legal requirements of each client, including Residential, Commercial, Pre-Construction and New Construction, Short Sales and Foreclosures, and more. We know that no two clients or transactions are exactly alike, which is why our title experts take the time to get to know every individual client to better understand their circumstances and goals. We offer only the services you need so as to save you time, money, and needless hassle.
We Provided Unmatched Convenience
As a Miami Title Company, we're based in the vibrant heart of the South Florida real estate market. Our firsthand personal and professional knowledge of the area makes us uniquely equipped to advise you on real estate matters. We maintain a well-developed network of local partners and contacts that bolster the efficiency and timeliness of our services. Beyond our deep legal and real estate knowledge, we provide clients with a myriad of other benefits that will make the transaction smoother and more efficient. These include competitive title fees, same-day closing statements, streamlined escrow services, after-hours availability for closing, and much more.
We Pay Attention to Every Critical Detail
Our title experts are as meticulous and methodical as they are knowledgeable and experienced. When it comes to title issues, even an error as seemingly minor as a misspelling can lead to dire problems and liabilities. That's why our title examinations are as up-to-date and thorough as possible, utilizing the latest technology and techniques to make sure everything is in order. We apply the same keen eye for details when it comes to preparing an Owner's Title Insurance Policy, which ensures solid protection from any possible errors, defects, or misrepresentations.
We're Always By Your Side
Whether you need a one-off service or a lifetime partnership, we'll help you in any possible way and with the utmost dedication. From pre-closing to post-closing, Marina Title offers expert guidance and counsel at every step. We take the interests of our clients very seriously, and will stop at nothing to fulfill them to your fullest satisfaction.
No matter what the nature of your real estate transaction, title issues are nothing to take lightly. The Marina Title Advantage ensures that you receive quality, trustworthy service in a timely and affordable matter. Schedule a consultation with us today when you contact (305) 901-5628 or info@marinatitle.com
Testimonials
"Very trustworthy title company. The attorneys and staff are all very kind, professional and responsive; they took their time and explained all the details on our closing. I had a bad experience with a different tittle company in the past where the paperwork was full of mistakes. I will only use Marina Title going forward. Highly recommend." – Guiselle




"A BUNCH OF KNOW IT ALL'S" and that is exactly what I need on my side! Dealing in this crazy world of Real Estate, I can always count on these top notch smarties to educate me and my clients while solving the issues as they inevitably pop up. The teams at Marina Title and the Law Offices of JURADO & FARSHCHIAN, P.L in North Miami provide a exceptional list of services. Each time I use them, I am always pleased with their results and at the end, I feel a little smarter myself! Thanks for the knowledge!" – Melton




"From the first time I talked to Jennie, I felt I am going to be in good hands with her representing me in a purchase of a luxury Condo in Miami. She was professional, honest, attentive, punctual and much more. She answered all my questions, revised the purchase and sale contract when needed and followed up on my transaction until it was closed. Her Escrow assistant Suzette is one of the greatest people I have worked with. She addressed my questions on the HUD statement, communicated promptly to HOA and my Insurance agent and was on top of it all. I truly appreciated someone like Suzette working on my real estate purchase. I am very greatful and would recommend her and Jennie anytime in the future." – Sam




"Ever since my very first real estate deal 6 years ago, I have been utilizing Marina Title to assist me with closing other deals. Jennie and her staff is some of the greatest people you will ever meet and work with in this business. They definitely go the extra mile to make sure their clients are well taken care of. I am consistently referring people to them, because of their professionalism." – Courtney




"Jennie is an excellent real estate lawyer. When we sold our condo in Miami Beach she took care of all the legal documents. She was extremely professional and knowledgeable, and always very pleasant to work with. I would definitely recommend Jennie as a real estate lawyer." – Richard