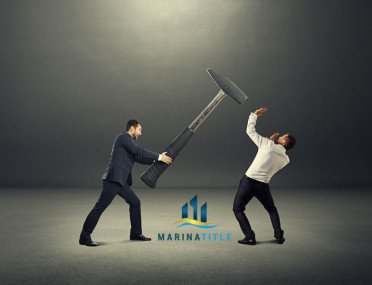 What Happens When a Seller Defaults?
12 Aug 2015
The closing process can be chaotic enough without the added stresses of a breach of contract on the part of the seller. As a homebuyer, you may be wondering about the legal rights with which you are endowed should such an unhappy circumstance result. A buyer's legal recourse, however, is dependent on the terms set forth in the contract. What follows is a list of reasons why a seller might default and what options are available to the buyer.
Valid Reasons for Seller Breach of Contract
Sellers may legitimately default on the contract in the event that home repairs, inspections and other requirements cannot be satisfactorily completed. As long as there are no clauses stating that the seller is responsible for these and similar issues, he or she may invalidate the contract on the grounds of irreconcilable contingencies. Contract damages can be claimed in the event that, for example, the purchase price is much lower than that of a neighboring home that has been appraised at a value equal to or lesser than that of the property in question. For more information, visit Marina Title's Buyers and Sellers page.
In the case of there being more than one settler, the default of a sale can result from such events as the property being sold by the heirs to the estate or the dissolution of a marriage. Should even one of these sellers not agree to the terms, the sale will be rendered null and void. The original seller may then, without fear of legal repercussions, withdraw from the contract. Aside from various personal reasons a purchaser may want to back out of the transaction, which are rarely deemed valid by the state, the sale of a home may be contingent on the seller's acquisition of a new, separate piece of property. If so, should the seller fail to acquire said property, he or she may withdraw from the contract.
The Buyer's Legal Recourse
In the event that contacting the lender, broker, settlement agent and other relevant parties should result in a breakdown of communication, the buyer should consult a qualified attorney. Reviewing your contract for contingency clauses, dispute resolution clauses or remedies for default should be the very first action a buyer takes should he or she suspect that the seller cancelled a transaction illegitimately. If the purchase contract proves too vague or does not include the appropriate language, a real estate attorney may be able to file a lawsuit for damages both monetary and punitive, depending on the degree of fraud or deceit engaged in by the seller.
Additionally, the buyer may sue for "specific performance," a term which affixes upon the property the labels of "unique" and "specific," the end result being that the sale is court-enforced. To ensure the full protection of their rights, buyers should always review their contracts for any language specifying how disputes must be resolved, whether through arbitration, mediation, small claims court or other venues.
The above list is far from exhaustive, and there are many more aspects to consider if a seller should default. The professionals at Marina Title offer their expert knowledge in answering any questions you might have pertaining to purchase contracts, title insurance and many other matters governing Florida real estate. Contact us by email at info@marinatitle.com, or by phone at 1 (800) 610-4750.
Testimonials
Jennie is an excellent real estate lawyer. When we sold our condo in Miami Beach she took care of all the legal documents. She was extremely professional and knowledgeable, and always very pleasant to work with. I would definitely recommend Jennie as a real estate lawyer.




Jennie represented me in a very contentious property sale. She was professional, detail oriented, and knowledgeable about the intricacies of what can come back as a problem. Jennie handled the entire sale, spoke with me about each detail as they came up. I would have no reason to look for another law firm. She is also friends with some of the brightest and dedicated attorneys anywhere. She made a very unpleasant event possible. I would recommend her to my dearest friends, and anyone else for that matter.




I'm an real estate investor from CA and trying to buy properties in Florida, i was looking for real estate attorney's who could help me reviewing my closing documents and i found Jennie's help was not only in a timely fashion but her extensive knowledge in real estate amazed me. She was thorough and complete, right away she was able to spot any potential risks in the contracts and that just made my day to have this peace of mind assurance from her. so i would recommend her service to others in similar needs like myself as well. Thanks again Jennie.




Jennie handled a business property purchase for me very recently, She was very professional kept me informed every step of the way through to closure. Jennie is also very knowledgeable as there were times I didn't quite understand certain legal terms & she explained them very clearly to me. I will also say that she is very trustworthy too & look forward to working with her on my next business purchase very soon. Excellent & highly recommendable.




Jennie is an excellent attorney. She is smart, well educated, diligent, friendly, reliable, and always a pleasure to work with. Jennie is always the first person I go to when I need legal advice. If you need a good lawyer I highly recommend her.



Insights