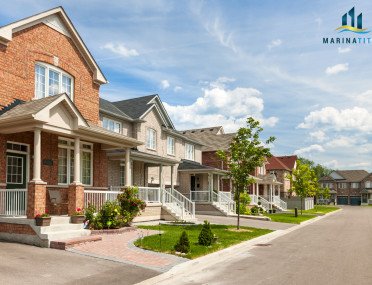 3 Salable Factors of Real Estate Property in Florida
04 Aug 2015
The value of Florida property can be affected, negatively or positively, by a wide array of conditions. Putting a home, or any real estate, up for sale, requires that everything from the physical state of the property to the perceived safety of the area will be judged by prospective buyers. When preparing the property for its foray into the market, appending a more-than-fair asking price, there are some considerations to take into account. What follows is a list of three salable factors of real estate property in Florida.
Condition and Age
Naturally, condition is vital. For a home that is well-maintained, with a new roof, air conditioning units, water heater and other such amenities, one would be able to ask a significantly higher price than for a home that requires replacement of major appliances and other renovations. Buyers tend to appreciate the convenience of purchasing a move-in-ready home.
The salability of new homes and historic homes exceeds that of other categories in many cases. A home built in the early part of the twentieth century, for example, will usually be considered to be of greater value than one constructed in the 1970s. This general rule applies as long as the historic home is in good condition and is livable. By contrast, a home younger than a decade old will be more salable than its elders (again, up to a point). Visit Marina Title's Realtors page, for more information.
Layout and Size
The layout and size of your property will shape the way buyers regard it. Many average homebuyers are no longer enamored with massive, high-maintenance mansions, preferring a humbler figure for total square-footage in which the space is more effectively utilized. A sensible layout with an open-concept design can give the air of openness and largesse when, in fact, the home is not exceptionally expansive. For example, fewer but larger bedrooms can greatly increase the value of a home. Similar design and effective use of space can be applied to any property.
Additions and Upgrades
Contrary to common perception, a home can be upgraded beyond practicality. If, compared to other homes in a subdivision, for example, a property is "over improved," its valuation could suffer. Granite countertops, stainless steel appliances and other luxury touches often do add value to a property. However, if other homes in the area do not offer the same amenities, one should consider investing those funds elsewhere. That being said, a property that is in excellent condition, with area-appropriate additions and upgrades, can fetch a far more handsome price.
Negative Features and Area Safety
Past events, such as fires, floods, extensive mold or break-ins can adversely affect the value of the property. The same applies to a death in the home or the proximity to unsavory areas. If your property is free of negative features such as lead paint and mold, and has not been subjected to natural disasters or crime, its salability will be significantly improved.
The professionals at Marina Title deliver expert service tailored to you, and can answer any questions you may have concerning the salability of a property, title searches, title insurance and any other topic pertaining to the Florida real estate market. For more information, contact Marina Title by email at info@marinatitle.com, or by phone at (305) 901-5628.
Testimonials
"Very trustworthy title company. The attorneys and staff are all very kind, professional and responsive; they took their time and explained all the details on our closing. I had a bad experience with a different tittle company in the past where the paperwork was full of mistakes. I will only use Marina Title going forward. Highly recommend." – Guiselle




"A BUNCH OF KNOW IT ALL'S" and that is exactly what I need on my side! Dealing in this crazy world of Real Estate, I can always count on these top notch smarties to educate me and my clients while solving the issues as they inevitably pop up. The teams at Marina Title and the Law Offices of JURADO & FARSHCHIAN, P.L in North Miami provide a exceptional list of services. Each time I use them, I am always pleased with their results and at the end, I feel a little smarter myself! Thanks for the knowledge!" – Melton




"From the first time I talked to Jennie, I felt I am going to be in good hands with her representing me in a purchase of a luxury Condo in Miami. She was professional, honest, attentive, punctual and much more. She answered all my questions, revised the purchase and sale contract when needed and followed up on my transaction until it was closed. Her Escrow assistant Suzette is one of the greatest people I have worked with. She addressed my questions on the HUD statement, communicated promptly to HOA and my Insurance agent and was on top of it all. I truly appreciated someone like Suzette working on my real estate purchase. I am very greatful and would recommend her and Jennie anytime in the future." – Sam




"Ever since my very first real estate deal 6 years ago, I have been utilizing Marina Title to assist me with closing other deals. Jennie and her staff is some of the greatest people you will ever meet and work with in this business. They definitely go the extra mile to make sure their clients are well taken care of. I am consistently referring people to them, because of their professionalism." – Courtney




"Jennie is an excellent real estate lawyer. When we sold our condo in Miami Beach she took care of all the legal documents. She was extremely professional and knowledgeable, and always very pleasant to work with. I would definitely recommend Jennie as a real estate lawyer." – Richard