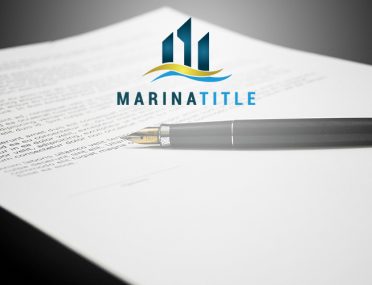 Protect Yourself with Specialized FSBO Title Services
14 Mar 2018
Florida has a large market of properties that are "for sale by owner" (FSBO), meaning that they are sold and marketed directly by the seller without the assistance of a Realtor or broker. While this has its advantages – namely removing the 3 or 6 percent commission that would otherwise be paid to a real estate agent – going forward without Marina Title's professional FSBO Title Services could leave you paying far more in title issues.
The Many Risks and Liabilities that FSBO Title Services Protect Against
Even if you have experience handling FSBO properties without the help of a real estate professional, you should not skimp on hiring our title experts. That is because there is no shortage of legal and financial problems that could be attached to a property's title, especially when it is being sold and marketed without anyone else scrutinizing it. The following are just a few of the matters our title and real estate attorneys are equipped to look out for and address:
Scams, Fraud, and Misrepresentations – It might seem safe to assume that the person selling you the property is the rightful owner. However, no matter how trustworthy the seller may seem, or how badly you want the property, never assume that everything is as it appears. Instances of fraud are very common throughout Florida's real estate market, especially with FSBO properties that are handled without professional assistance. Marina Title will carefully review all paperwork related to the property to make sure the seller has the right to both own and sell it.
Bad or Defective Title – Even an honest seller can make a mistake or be unaware of previous ownership issues with the home they are selling. For their sale to be legally valid, the property must have a clear chain of title leading up to their current ownership. If a deed is missing, unrecorded, or defective, it could undermine your subsequent ownership of the property. Marina Title conducts an in-depth and extensive title examination of the public records to ensure that nothing is amiss, and that the buyer will receive clear title.
Liens, Judgments, Encumbrances, and More – Even if the seller is the legitimate owner and the chain of title is unbroken, there are plenty of other issues that can impact your ability to fully enjoy the property. If the seller or a previous owner had an unpaid debt for example, there may be a lien on the property that will remain attached even after you take ownership – meaning it will be your responsibility to pay it off. The same goes for code violations, judgments, and other unresolved financial and legal obligations that were someone else's problem but will become your own once title is transferred. We make sure that no such burdens become yours to bear.
Hidden Hazards – Even the most wide-ranging and thorough examination may not reveal every potential hazard: there are many potential title issues that may go unrecorded or unknown until well after you possess the property. For example, a previously unknown third party may come along claiming to have a rightful interest to the property. To protect against these sorts of possibilities, Marina Title specializes in drafting title insurance policies that will cover the costs of any legal defense against these or other unknown challenges to your ownership.
Marina Title Offers Many More FSBO Title Services
In addition to protecting you from the above-mentioned hazards and risks, our legal experts can assist you in moving the closing along through general guidance and counsel. For more information on how Marina Title can ensure a safe and efficient FSBO transaction, contact (305) 901-5628 or email info@marinatitle.com.
Testimonials
"Very trustworthy title company. The attorneys and staff are all very kind, professional and responsive; they took their time and explained all the details on our closing. I had a bad experience with a different tittle company in the past where the paperwork was full of mistakes. I will only use Marina Title going forward. Highly recommend." – Guiselle




"A BUNCH OF KNOW IT ALL'S" and that is exactly what I need on my side! Dealing in this crazy world of Real Estate, I can always count on these top notch smarties to educate me and my clients while solving the issues as they inevitably pop up. The teams at Marina Title and the Law Offices of JURADO & FARSHCHIAN, P.L in North Miami provide a exceptional list of services. Each time I use them, I am always pleased with their results and at the end, I feel a little smarter myself! Thanks for the knowledge!" – Melton




"From the first time I talked to Jennie, I felt I am going to be in good hands with her representing me in a purchase of a luxury Condo in Miami. She was professional, honest, attentive, punctual and much more. She answered all my questions, revised the purchase and sale contract when needed and followed up on my transaction until it was closed. Her Escrow assistant Suzette is one of the greatest people I have worked with. She addressed my questions on the HUD statement, communicated promptly to HOA and my Insurance agent and was on top of it all. I truly appreciated someone like Suzette working on my real estate purchase. I am very greatful and would recommend her and Jennie anytime in the future." – Sam




"Ever since my very first real estate deal 6 years ago, I have been utilizing Marina Title to assist me with closing other deals. Jennie and her staff is some of the greatest people you will ever meet and work with in this business. They definitely go the extra mile to make sure their clients are well taken care of. I am consistently referring people to them, because of their professionalism." – Courtney




"Jennie is an excellent real estate lawyer. When we sold our condo in Miami Beach she took care of all the legal documents. She was extremely professional and knowledgeable, and always very pleasant to work with. I would definitely recommend Jennie as a real estate lawyer." – Richard