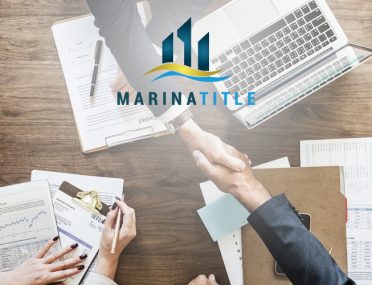 Why Realtors Should Team Up with a Title Company
07 Mar 2018
As a Realtor, you are in the business of helping buyers and investors obtain the real estate they need to fulfill their dreams, whether it is to own a home or make a sound investment. That is why working with a Title Company like Marina Title is imperative to the best interests of your clients and your business. Our job is to ensure that property buyers can acquire the real estate they desire without the costly risks and liabilities of any title or lien issues. Learn what we do and how we help you best serve your valued clients.
What a Title Company Does and Why it Matters
Title consists of the bundle of rights that come with owning a property, such as the right to possess, use, and transfer the property as you see fit. Without clear title, the buyer's ability to make full use of their new acquisition will be in jeopardy, not to mention the legal problems that may arise if there is a lien or title claim. Once the buyer takes title, it will often times become the buyer's responsibility to address these issues, which is not only bad for them but for your business.
Our job is to protect your clients from these title problems. Prior to any real estate transaction closing, we conduct an extensive examination of the title of the subject property, searching carefully through every available record to ensure that there are no defects, liens, code violations, or other issues that could negatively impact the prospective buyer. Given that title problems are a big factor in the cancellation of real estate transactions, it is crucial to order a title examination with our company to make sure the buyer receives clear and marketable title.
Our Title Company Goes Beyond Title Examinations
While we use the latest methods and technologies to ensure the most reliable results, we leave nothing to chance when it comes to protecting your client. That is why we also specialize in drafting title insurance policies, which are designed to protect owners from any errors, defects, claims, or other title issues that are unrecorded or unknown. Should any such title-related problems be uncovered in the future, title insurance will cover the cost of defending against legal claims, and if the worst case scenario should occur – losing the property – the insurance company will reimburse your client accordingly.
In addition to title examinations and title insurance, our attorney-owned and operated title company provides general counsel and guidance to Realtors and their clients through the closing process. We will advise you on any potential risks or opportunities, address any title issues that may emerge, and help resolve disputes or disagreements between the parties. In short, we will do whatever it takes to ensure that your closing is smooth and efficient to everyone's satisfaction.
Why Marina Title Should be Your Title Company of Choice
Our firm is owned and operated by real estate attorneys who share your knowledge and passion for Florida real estate. We know what it takes to succeed in this demanding but rewarding real estate market, and will do everything possible to help you get there. As part of our commitment to our Realtor clients, we offer same-day wire commissions to ensure our Realtors are paid promptly and fully. We have experience working with Realtors across all specialties, including pre-construction, new construction, short sale, and foreclosure properties. We take care of all the legal complexities of a transaction so that you could focus on your real estate profession. To schedule a consultation or learn more about what we can offer, please call (305) 901-5628 or email info@marinatitle.com.
Testimonials
Jennie is an excellent real estate lawyer. When we sold our condo in Miami Beach she took care of all the legal documents. She was extremely professional and knowledgeable, and always very pleasant to work with. I would definitely recommend Jennie as a real estate lawyer.




Jennie represented me in a very contentious property sale. She was professional, detail oriented, and knowledgeable about the intricacies of what can come back as a problem. Jennie handled the entire sale, spoke with me about each detail as they came up. I would have no reason to look for another law firm. She is also friends with some of the brightest and dedicated attorneys anywhere. She made a very unpleasant event possible. I would recommend her to my dearest friends, and anyone else for that matter.




I'm an real estate investor from CA and trying to buy properties in Florida, i was looking for real estate attorney's who could help me reviewing my closing documents and i found Jennie's help was not only in a timely fashion but her extensive knowledge in real estate amazed me. She was thorough and complete, right away she was able to spot any potential risks in the contracts and that just made my day to have this peace of mind assurance from her. so i would recommend her service to others in similar needs like myself as well. Thanks again Jennie.




Jennie handled a business property purchase for me very recently, She was very professional kept me informed every step of the way through to closure. Jennie is also very knowledgeable as there were times I didn't quite understand certain legal terms & she explained them very clearly to me. I will also say that she is very trustworthy too & look forward to working with her on my next business purchase very soon. Excellent & highly recommendable.




Jennie is an excellent attorney. She is smart, well educated, diligent, friendly, reliable, and always a pleasure to work with. Jennie is always the first person I go to when I need legal advice. If you need a good lawyer I highly recommend her.



Insights