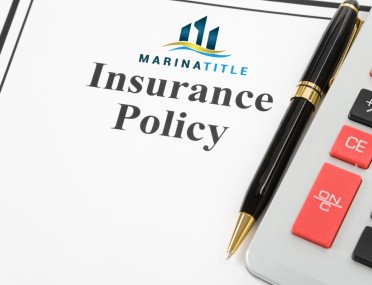 Title Insurance 101
07 Jul 2015
Even those property transactions that appear to have been completed without issue can bear hidden dangers. The approval of the loan application does not mean that a homebuyer will not face disaster in the future. Title insurance provides protection against potential disasters with the capacity to financially ruin a buyer in the wake of a recent acquisition. Find below Title Insurance 101, the basics of title insurance:
What is Title Insurance?
The term "title" refers to one's ownership of a piece of property, while it grants the owner protection against legal action should any issues arise that originate prior to the purchase of said property. Any defects which might allow for legal action to be taken against the owner will be covered. The same holds true for legal expenses the owner might incur in defending him or herself. They will be reimbursed up to the face amount stated in their insurance policy. Visit Marina Title's Overview page, for more information about it.
Two Types of Title Insurance
To protect its investors, the lender will take out a Loan Policy of Title Insurance. In addition, the borrower will purchase an Owner's Policy of Title Insurance to preserve the equity of his or her investment against any form of damages, legal and otherwise. Both policies are necessary to ensure the property is protected to the fullest extent possible.
What Does Title Insurance Do?
Unlike other varieties of insurance policies, protects the policy holder against problems and damages which affected the property before the transference of ownership was effected. In other words, the owner will be guarded against any legal issues for which they might otherwise be held accountable, such as erroneous or forged deeds. Other possible issues that might afflict the property include illicit transfer due to false wills, tangled probate cases, spelling and other errors occurring in legal documents and so on. Title insurance safeguards a homebuyer from such disasters and many more.
The owner will not be protected from any problems originating after his assumption of ownership of the property.
How to Buy a Policy
Contact a title company and inquire about an Owner's Policy of Title Insurance. Throughout most of the country, its policy premiums are government-regulated, and a buyer only needs to pay it once. Because the policy's face amount must be equal to the value of the property, the cost of the premium relies on the total price paid for the property. A title insurance policy guarantees that the policy holder is the sole owner of the deed and that said deed was properly filed and free of defect.
Once an official survey document is handed to the overseeing insurance agent, the owner will have the peace of mind that comes with no one being able to lay claim to any part or parcel of his or her property. However, in the case of a survey exception, the owner may need to pay one additional premium.
To prevent damages to or loss of property, it is necessary to own a title insurance policy. For further information about title insurance, you can contact us by phone at 1 (800) 610-4750 or by email at info@marinatitle.com.
Testimonials
Jennie is an excellent real estate lawyer. When we sold our condo in Miami Beach she took care of all the legal documents. She was extremely professional and knowledgeable, and always very pleasant to work with. I would definitely recommend Jennie as a real estate lawyer.




Jennie represented me in a very contentious property sale. She was professional, detail oriented, and knowledgeable about the intricacies of what can come back as a problem. Jennie handled the entire sale, spoke with me about each detail as they came up. I would have no reason to look for another law firm. She is also friends with some of the brightest and dedicated attorneys anywhere. She made a very unpleasant event possible. I would recommend her to my dearest friends, and anyone else for that matter.




I'm an real estate investor from CA and trying to buy properties in Florida, i was looking for real estate attorney's who could help me reviewing my closing documents and i found Jennie's help was not only in a timely fashion but her extensive knowledge in real estate amazed me. She was thorough and complete, right away she was able to spot any potential risks in the contracts and that just made my day to have this peace of mind assurance from her. so i would recommend her service to others in similar needs like myself as well. Thanks again Jennie.




Jennie handled a business property purchase for me very recently, She was very professional kept me informed every step of the way through to closure. Jennie is also very knowledgeable as there were times I didn't quite understand certain legal terms & she explained them very clearly to me. I will also say that she is very trustworthy too & look forward to working with her on my next business purchase very soon. Excellent & highly recommendable.




Jennie is an excellent attorney. She is smart, well educated, diligent, friendly, reliable, and always a pleasure to work with. Jennie is always the first person I go to when I need legal advice. If you need a good lawyer I highly recommend her.



Insights