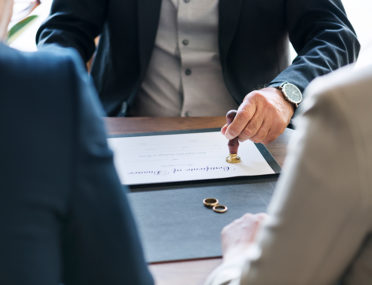 Transferring Title after Divorce in Florida – What Do I Need to Know?
10 Aug 2020
Transferring title after divorce in Florida can be tricky, sometimes. When one of the divorcing spouses receives the marital home as part of the settlement, it does not automatically mean that he or she is now the legal owner of the home. Usually, the court will order the other spouse through a Final Judgment of Dissolution of Marriage to deliver a quitclaim deed. When it comes to transferring title after divorce in Florida, quitclaim deeds are the fastest way because they are designed for situations where an individual wants to transfer an interest in real property quickly to a family member or a close friend. Sometimes, however, transferring title after divorce in Florida can get a bit tricky, and a quitclaim deed may not be enough.
Transferring Title after Divorce in Florida
Most married couples have a mortgage on their home, and some couples even have multiple mortgages as well as home equity loans. Luckily, at Marina Title, in cases where divorcing spouses agree to sell their home, we can provide mobile closing services and even schedule separate closing dates for each of the divorcing spouses.
If one of the divorcing spouses agrees to or is ordered by the court to give up his or her interest in a marital home, then Marina Title can help the former spouses create and execute a Florida quitclaim deed.  However, the spouse that has to give up their interest in the home may be reluctant to do so because of an existing joint mortgage, as removing his or her name from the title will not release his or her legal obligations to the mortgage lender. Generally, the best way to accomplish a smooth settlement is to have both divorcing spouses sign the quitclaim deed simultaneously, with the spouse that is receiving the marital property taking a new mortgage in his or her sole name in order to pay off the existing joint mortgage.
If one of the former spouses refuses to sign the quitclaim deed, the other former spouse can force him or her to sign it. However, that might not be necessary, as the final judgment of dissolution of marriage will likely state that both parties must sign the deed. If the reluctant spouse still refuses to sign, then the receiving spouse can take him or her back to court.
Depending on the wording of the final judgment of dissolution of marriage, it can act as a valid Florida quitclaim deed and, therefore, legally transfer title to the marital home to the receiving spouse. In this case, the receiving spouse would need to file a certified copy of the judgment with the clerk of the Department of Court Records instead of a quitclaim deed.
Work with Marina Title
As you can see, transferring title after divorce in Florida can be quite tricky even if the marriage comes to a peaceful end. This is why working with skilled and experienced real estate attorneys is vital. When it comes to divorces in Florida, dividing property between the spouses can be one of the hardest parts of the process because disputes can arise surprisingly easily. However, divorcing spouses often choose to avoid disputes and focus only on what is best for both. No matter which situation you find yourself in, when transferring title after divorce in Florida, you should work with a reliable title company like Marina Title. We will work relentlessly to resolve any issue so that the transfer happens on time and there are no complications.
Call our offices today at (305) 901-5628 or get in touch with our Florida title experts via email: Romy@MarinaTitle.com.
Testimonials
Jennie is an excellent real estate lawyer. When we sold our condo in Miami Beach she took care of all the legal documents. She was extremely professional and knowledgeable, and always very pleasant to work with. I would definitely recommend Jennie as a real estate lawyer.




Jennie represented me in a very contentious property sale. She was professional, detail oriented, and knowledgeable about the intricacies of what can come back as a problem. Jennie handled the entire sale, spoke with me about each detail as they came up. I would have no reason to look for another law firm. She is also friends with some of the brightest and dedicated attorneys anywhere. She made a very unpleasant event possible. I would recommend her to my dearest friends, and anyone else for that matter.




I'm an real estate investor from CA and trying to buy properties in Florida, i was looking for real estate attorney's who could help me reviewing my closing documents and i found Jennie's help was not only in a timely fashion but her extensive knowledge in real estate amazed me. She was thorough and complete, right away she was able to spot any potential risks in the contracts and that just made my day to have this peace of mind assurance from her. so i would recommend her service to others in similar needs like myself as well. Thanks again Jennie.




Jennie handled a business property purchase for me very recently, She was very professional kept me informed every step of the way through to closure. Jennie is also very knowledgeable as there were times I didn't quite understand certain legal terms & she explained them very clearly to me. I will also say that she is very trustworthy too & look forward to working with her on my next business purchase very soon. Excellent & highly recommendable.




Jennie is an excellent attorney. She is smart, well educated, diligent, friendly, reliable, and always a pleasure to work with. Jennie is always the first person I go to when I need legal advice. If you need a good lawyer I highly recommend her.



Insights