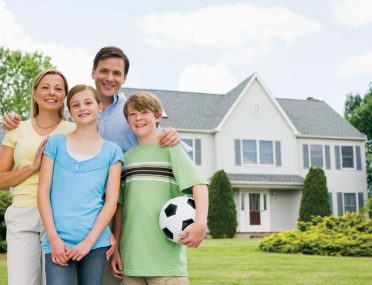 Why Do Homebuyers with Children Face Greater Obstacles?
21 Oct 2019
In the State of Florida, homebuyers with children must overcome far more difficulties when it comes to finding and buying a home, and generally make more concessions before finally closing on a property. The question here is, "why?" Read on to find the answer.
Finding and buying a home is a daunting process for anyone due to the many crucial steps homebuyers need to take and the requirements they must meet. However, several studies show that the process of finding a home and purchasing it is far more difficult for homebuyers with children, and the levels of stress associated with the process are far higher. Generally, homebuyers with children under 18 make smaller down payments and are substantially more likely to go over budget. In addition, homebuyers with children are likely to end up with longer commutes and smaller homes than they originally wanted.
While homebuyers without children might begin their search in the more walkable, trendy parts of a city, the needs of homebuyers with children typically weigh more heavily on safety and community. Additionally, homebuyers with children generally focus on having the preferred number of bedrooms and bathrooms, as well as private outdoor space and community amenities.
Homebuyers with children are often balancing child-raising responsibilities with career demands, which is why they must find a home in a location near a daycare, for example, or in a specific school district with the commute to work. A long commute usually means less time spent with the children if their bedtime routine comes soon after eating dinner.
Finding a home with the right features in the right place entails an arduous search process. Homebuyers with children are far more likely to have an offer fall through and they usually attend more open houses. However, despite the extra effort to find the perfect home for their family, about 66% of homebuyers with children ultimately make sacrifices to stay within their budget. These sacrifices include a shorter commute, a larger home, or their desired finishes.
However, this arduous process may be worth it in the end, as 94.6% of homebuyers with children who recently bought a new home say they love it. This percentage is slightly higher than that of homebuyers without children.
Having kids can be a major destabilizer in life because their needs are constantly changing and it is seemingly impossible to anticipate them. This uncertainty combined with what is likely the biggest purchase someone will ever make is what makes buying a home for a family such a difficult challenge. However, as markets cool, homebuyers with children will have more time to take a breath and reflect on what tradeoffs they are willing to make. The trick here is finding a home that meets the family's needs today but also tomorrow. Homebuyers with children need to keep in mind that toddlers will eventually turn into kids, kids will turn into teenagers, and teenagers will turn into young adults. The house these parents buy must be able to meet the needs of their kids now that they are little and in the future when they become young adults.
However, that is not the end of the story. Homebuyers with children are not the only ones who face a big challenging when it comes to finding a home. Home renters with children also have a hard time finding a home that meets their needs. On average, renters with children fill out 1.9 times as many applications as renters without children, and it usually takes them a month longer to find a home that meets their needs.
Are you looking to close on a new home? Call Marina Title today at (305) 901-5628 or send us an email to Romy@MarinaTitle.com to learn more about our real estate closing services. 
Testimonials
Jennie is an excellent real estate lawyer. When we sold our condo in Miami Beach she took care of all the legal documents. She was extremely professional and knowledgeable, and always very pleasant to work with. I would definitely recommend Jennie as a real estate lawyer.




Jennie represented me in a very contentious property sale. She was professional, detail oriented, and knowledgeable about the intricacies of what can come back as a problem. Jennie handled the entire sale, spoke with me about each detail as they came up. I would have no reason to look for another law firm. She is also friends with some of the brightest and dedicated attorneys anywhere. She made a very unpleasant event possible. I would recommend her to my dearest friends, and anyone else for that matter.




I'm an real estate investor from CA and trying to buy properties in Florida, i was looking for real estate attorney's who could help me reviewing my closing documents and i found Jennie's help was not only in a timely fashion but her extensive knowledge in real estate amazed me. She was thorough and complete, right away she was able to spot any potential risks in the contracts and that just made my day to have this peace of mind assurance from her. so i would recommend her service to others in similar needs like myself as well. Thanks again Jennie.




Jennie handled a business property purchase for me very recently, She was very professional kept me informed every step of the way through to closure. Jennie is also very knowledgeable as there were times I didn't quite understand certain legal terms & she explained them very clearly to me. I will also say that she is very trustworthy too & look forward to working with her on my next business purchase very soon. Excellent & highly recommendable.




Jennie is an excellent attorney. She is smart, well educated, diligent, friendly, reliable, and always a pleasure to work with. Jennie is always the first person I go to when I need legal advice. If you need a good lawyer I highly recommend her.



Insights